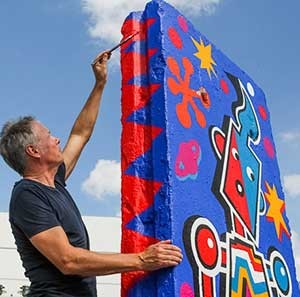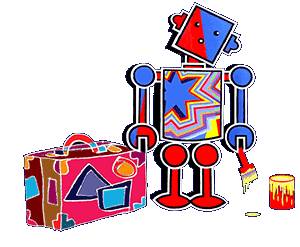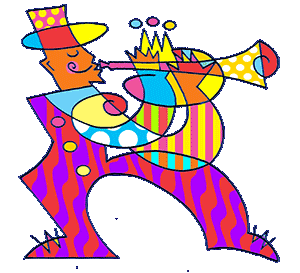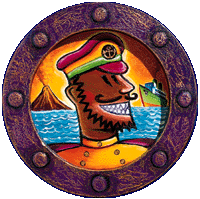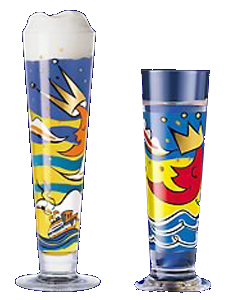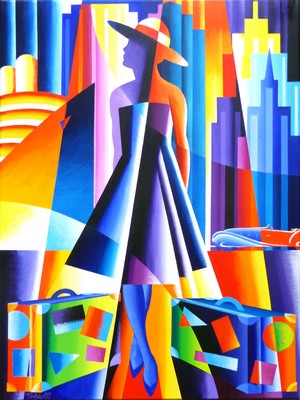 "I have eclectic taste in modern art: Elizabeth Frink, John Bellany, Paul Nash, Bratby, Paula Rego, Maggie Hambling – but the most striking images on my walls  are by Tim Davies. One very large, fervently green and cheerful  earlier work of his, from what I call his 'Bassett's Liquorice Allsorts' period – with jointed figures, pointed noses and partying dodgem cars, illuminates our hall. Opposite hangs another – a small vivid image on firmly-stretched canvas, formal and definitive: the very essence of an open- paged book. A scrupulous representation of an art-deco cinema illuminates my office, a simple record which could almost be a Depero. All have the sense of being snapped mid-moment – a second later and the forms would have changed: the dancers would have danced another step, the sun's rays converged and separated in a different pattern, the candy cars would have reached the sea, the book have opened wider, the sharp noses have sniffed out their prey. Even his two ceramic shakers on our dining table, salt and pepper, angel and devil, seem impatient to be lifted and used."

"Tim's is an extraordinary visionary gift, thus to be able to paint the apparently fantastic as the basic singing-and-dancing good cheer of the material universe. You could call his art psychedelic cartoon cubism – but it can never be defined when it's always moving on."

Fay Weldon
Tim Davies is a British Pop artist. He studied art in London from 1979 until 1983 at Camberwell School of Art where he was awarded a Batchelor of Arts Degree in Graphic Arts, and also a Master of Arts Degree in Fine Art Printmaking.
He later studied Fine Art printmaking at Central St.Martin's School of Art in Central London from 1983 until 1985 under Norman Ackroyd CBE, RA.
Whilst at Central St.Martins his artworks were twice selected for exhibition at the Royal Academy of Arts Summer Exhibtion in London. In late 1983 he created images that were animated for a short film advertising Ray Manzarek's (The Doors) record "Carmina Burana".
After leaving Central St.Martins he worked with renowned designer Storm Thorgerson of the Hypnosis design group, creating artworks that were used on record covers for Pink Floyd and Robert Plant amongst others.
In the late 1980's he began painting on large canvases with acrylics and exhibiting these works in London. This led to offers to create murals for the interiors of clubs, bars and restaurants in central London, including murals for the famous "Jazz Cafe" in London's Camden Town district.
In 1993 he worked with animation film director Pete Bishop to create animation sequences for MTV Asia. The animation won an award for best Station Ident Title sequence at the New York Television and Film Festival later that year.
From the mid 1990's he began exhibiting his work across Europe and beyond, taking part in the exhibition "England's Dreaming" in Tokyo in 1995 and then a series of solo exhibitions throughout Switzerland from 1997 until 2000. Exhibitions then followed in Hamburg in Germany throughout 2000 and 2001, and further exhibitions and projects in Hannover ("üstra Look Tim Davies" in 2003).
Since 2000 he has been designing for the German firm Ritzenhoff creating successful colourful and vibrant figurative pop-art designs for their glass and porcelain collections.
in 2000 he was commissioned by the BBC in London to create a painting of the famous Broadcasting House building in central London and in 2001 a series of work depicting the history of recorded music at the BBC. These paintings are now listed in the BBC Art Collection Archives in partnership with the British Public Catalogue Foundation.
Tim's art continues to be seen on record and cd covers featuring the music of a diverse collection of musicians such as Al Di Meola, Lalo Schifrin, Santana, Ladysmith Black Mambazo, and many more.
In 2007 Tim was commissioned to create a mural for the London transport Museum in London's Covent Garden district. Later in 2007 he relocated from London to Hannover and in 2009 he was invited to take part in "Mauerfall 2009", a celebration of the collapse of the Berlin Wall. Tim Davies painted onto a giant "Domino" which along with 999 others created a "Domino-effect" along the path of the original Wall.
Also in 2009, he began exhibiting his artworks and paintings on the AIDA cruiseships. In 2011 he collaborated with American Pop-artist James Rizzi, and Feliks Büttner, the creator of the famous AIDA "Kussmund" motif, on a series of original paintings.
In 2012 Tim painted his giant "Psychedelic Pop art Robot" figures onto an original section of the Berlin Wall, which is now exhibited at Checkpoint Charlie in central Berlin.
Tim lives and works in Hannover, Germany and his artworks are in many collections throughout the world.